Asheville Brewery | Beer Jobs
Asheville has transformed itself in a number of ways of the last decade. In it's quest to develop new industries that are environmentally friendly – the city has become the craft-brewing center of the Southeast. In fact, it was named the winner of the Examiner's "Beer City, USA" poll four years running.
With more Asheville breweries per capita than any U.S. city, Asheville is home to 18 craft breweries. And, of course with new companies, there are new jobs. Especially if you like beer!  The growth in brewery jobs is not however isolated to just Asheville.
Craft Brewery Industry Growth
2017 was another year of growth for America's craft brewers in terms of volume, market share and the number of jobs they create in the United States. According to the 2017 annual report released by the BA (
Brewers Association
) report, small and independent craft brewers saw a 5 percent rise in volume of beer in 2017. The number of operating breweries grew 16 percent to eclipse 6,300; the BA recorded 997 new breweries in 2017, while only 165 closed. Small and independently owned craft breweries account for 98 percent of all U.S. operating breweries.
Craft breweries are also creating new jobs. The BA report says craft brewers provided more than 135,000 jobs in 2017, which is an increase of 6,000 
from the previous year
.  (
VISIT: Find a U.S. Brewery
) Keep in mind small and independent craft brewers growth is particularly notable when you consider the overall U.S. beer market was down 1 percent in 2017.
The BA says craft beer continues to grow because people want to support local businesses. "Beer lovers want to support businesses that align with their values and are having a positive impact on their local communities and our larger society," says 
Bart Watson
, chief economist at the Brewers Association. "That's what small and independent craft brewers are all about. The ability to seek beers from small and independent producers matters."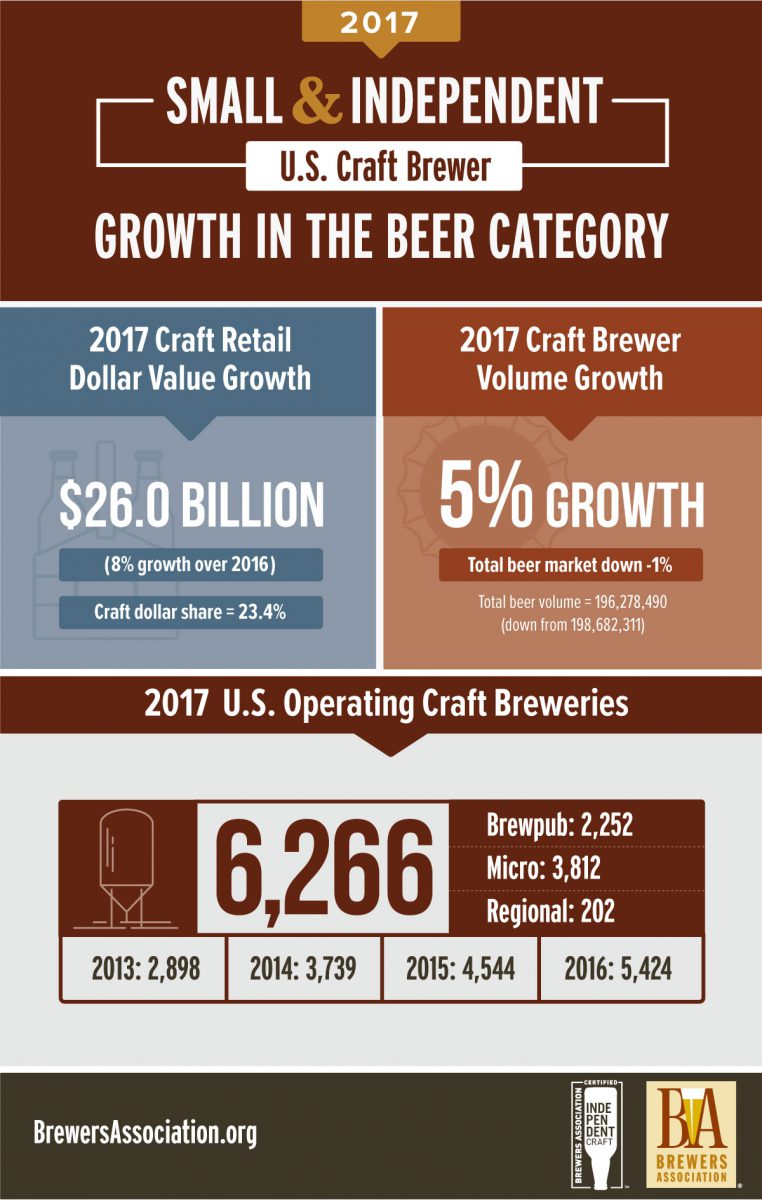 Asheville Breweries List (2017)
Archetype Brewing: Archetype Brewing Company began in 2016 as an idea, coming to fruition in early 2017. Founders Brad Casanova and Steven Anan bring background and experience from years of work in both Colorado and Western North Carolina. Together, they created a company based on simple, but powerful principles.
Focus on innovation, moving forward with a nod to our Belgian inspiration and roots.
Asheville Pizza and Brewing: 675 Merrimon Ave .and Asheville Brewing, 77 Coxe Ave. The Merrimon Avenue location opened in 1998 as Two Moons Brew-N-View and includes a discount cinema. The downtown Coxe Avenue location has a full liquor bar and patio. Beers are in cans and draft with some specialty brews in bottles.
Ben's Tuneup: 195 Hilliard Ave. South Slope favorite has its own beers, sakes and a great vibe.
Bhramari Brewhouse: 101 S. Lexington Ave Another arrival on the South Slope is brewing its own beers and offering guest taps from many  Asheville favorites.
Blue Mountain Pizza and Brewpub: 55 N. Main St. Weaverville. This small brewery is attached to the popular Blue Mountain Pizza Cafe.
Burial Beer: 40 Collier Ave. This small brewery features an ever-changing lineup of craft beers. Owners Doug and Jessica Reiser and their business partner Tim Gormley look to eventually expand by building a European-style farmhouse brewery. Beers are in cans, bottles and draft.
Catawba Brewing: 32 Banks Ave. The Morganton-based brewery has opened a new Asheville operation on the South Slope to produce small batch and specialty beers. The tasting room includes two bars, a covered patio and a back deck. Beers are sold on draft and in cans.
French Broad Brewing: 101 Fairview Road. Beers include Gateway Kolsch and 13 Rebels ESB. Bands regularly perform at brewery. Its beers are also in cans and on draft. Beer are in cans and bottles.
Funkatorium: 147 Coxe Ave. This spin-off from Wicked Weed brewery specializes in sour and barrel-aged brews.Beer are in bottles and draft.
Green Man: 23 Buxton Ave. It was the second Asheville brewery and has become a powerhouse with beers in bottles and on draft. The tasting room is at 23 Buxton Ave. in what has become the city's brewing district. Beer are in bottles and draft.
Highland Brewing: 12 Old Charlotte Highway. The first Asheville brewery, opening in 1994, it's probably best known for its flagship Gaelic Ale. Look for its bottled and draft beers in nine states. The tasting room has many beers only available there. Beer are in bottles and on draft.
Hi-Wire Brewing: 197 Hilliard Ave. It took over the former Craggie Brewing location and produces beers in bottles and on draft. All its beers have circus-themed names.Has added a second production brewery near Biltmore Village. Beers are in bottles and on draft.
Lexington Avenue Brewery: 39 N. Lexington Ave. Located In the heart of downtown, the LAB has a big restaurant..
Lookout Brewing: 103 S. Ridgeway Ave., Black Mountain. John Garcia opened this small brewery near downtown Black Mountain in 2013. It includes a home brew supply store
New Belgium Brewing: 21 Craven Street Asheville's biggest brewery is now making beer. Liquid Center tasting room now open, brewery tours to begin later this summer.
Sweeten Creek Brewing: 1127 Sweeten Creek Road, is owned and operated by Joey and Erica Nelson, who both previously worked at Highland Brewing.
Pisgah Brewing: 150 Eastside Drive, Black Mountain. Famous for its pale ale, its beers are also sold in cans and on draft and the brewery includes music stages.Beers are in cans and on draft.
Wedge Brewing: 37 Payne's Way The brewery is in the River Arts District and framed by the nearby French Broad River and a Norfolk Southern railroad line. Most of the beer it produces is sold only here.
Thirsty Monk: The Monk brewery is at the Open Brewing location on Hendersonville Road. Monk pubs are at Biltmore Park, downtown at the corner of Coxe and Patton Avenues and Reynolds Village.
One World Brewery: 10 Patton Ave. It's at the end of a short alley separating Farm Burger and Salsa's restaurants in downtown Asheville.
Oysterhouse Brewing: 6245 Haywood Road, West Asheville. Famous for its Moonstone Oyster Stout made with oysters, it was originally located at the downtown Lobster Trap before moving to West Asheville.
Twin Leaf Brewery: 144 Coxe Ave. Tim Weber runs this 10 barrel system in the South Slope brewing district.
Wicked Weed: 91 Biltmore Ave. The combination restaurant and brewery has emerged as among the city's most popular and includes sour and barrel-aged beers. Has also added a second production brewery in Enka and is adding a brewery for sour beers in Arden.
UpCountry Brewing Company: 1042 Haywood Road Asheville, NC UpCountry Brewing was founded in 2016 by John Cochran, a craft beer industry veteran since the mid-1990's. While John has worked many beer-related jobs in his 20+ years in brewing (including co-founding Terrapin Beer Company), he sees UpCountry as the culmination of all he has done so far.
Zebulon  Artisan Ales: 8 Merchants Alley, Weaverville. This brewery, just off Main Street , does not have a traditional tasting room, but instead lets visitors sample beers before buying them in 750 ml. bottles. Operated by veteran local brewer Mike Karnowski and his wife Gabe Pickard.
Coming Soon or Recently Launched: .  Habitat Brewing will open at 174 Broadway next to Moog Music. Hillman Beer is building in South Asheville on Sweeten Creek Road. Farenheit 828 will open at 17 Lee St. in South  Asheville  Upbeat Brewing is in development at Ramp Studios development at the corner of Broadway Street and Riverside Drive, not far from the Bywater club and will make two Ginger's Revenge ginger beer,   Whistle Hop Brewing is building at 1278 Charlotte Highway in Fairview. A new brewery is planned for Beecham's Curve in West Asheville.
We are a locally owned and operated business dedicated to helping job seekers find great opportunities for their career in beautiful Asheville North Carolina and the surrounding region.  AshevilleJobs.com is a part of the LocalJobs Network.